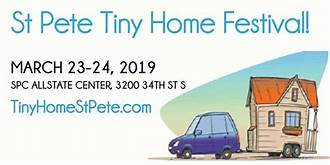 St. Pete Tiny Home Festival
20+ Tinies Rolling Into St Pete MARCH 23-24, 2019!
2 to 6PM Urban Gypsies of Florida Perform At, In and On Tiny Homes!!
​What:

St. Pete Tiny Home Festival

When:

10 am to 6 pm Saturday and Sunday, March 23-24, 2019

Where:

SPC Allstate Center, 3200 34th St S, St. Petersburg FL 33712

Tickets: $10 and up, available on EventLive! Contact:

Ester Venouziou, ester@localshops1.com or 727.637.5586

The festival, organized by LocalShops1, features the latest and greatest in tiny home living trends! In addition to the tiny structures, the festival brings a lineup of more than two dozen leading experts in the Tiny House movement. The event will also showcase local food trucks, mobile boutiques, artists and home-related businesses, plus free activities for children and more.

Tiny houses are homes typically sized under 500 square feet, and sometimes as small as 100 square feet, and can be on wheels, for mobility, or built on foundation. Tiny Houses are becoming more and more popular throughout the nation, thanks to their reduced cost and reduced carbon footprint.

The Tiny Homes coming to the St. Pete Festival include model homes by builders as well as custom-built homes and converted buses/vans that are owner-occupied. Altogether, more than 20 Tiny Structures are expected at the festival.