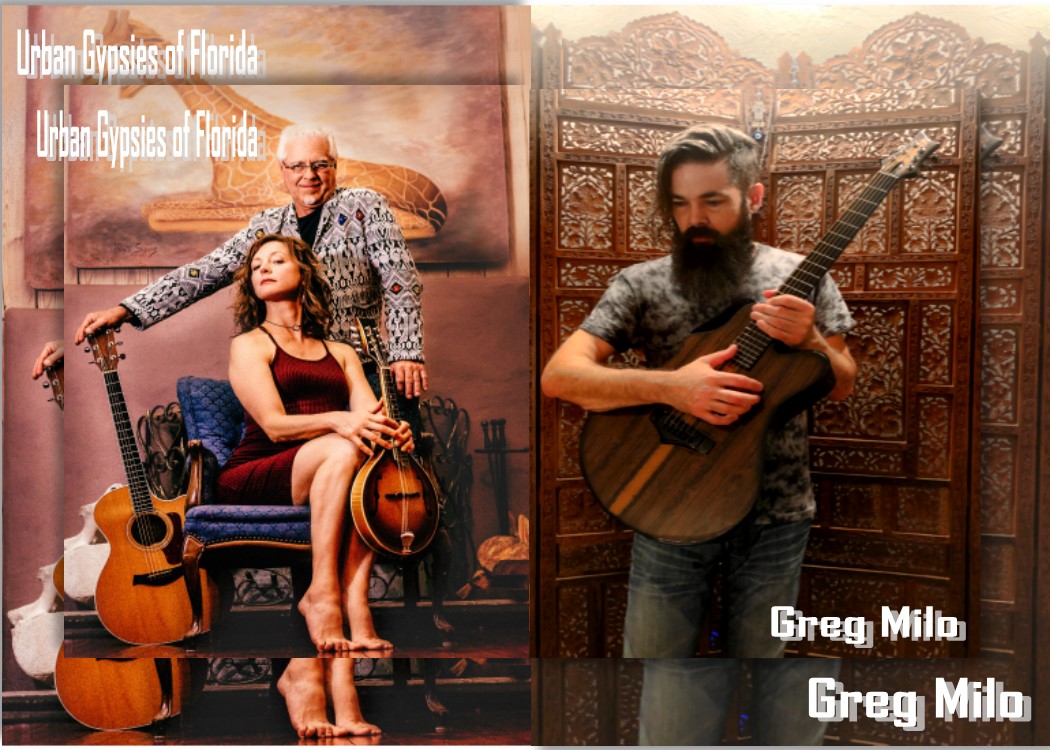 Urban Gypsies of Florida and Greg Milo at The North End Village Courtyard
Original Local Live Music Written by the Artists Performing
Exciting, Interactive, Uplifting and Inspiring!!
Two Fantastic Acts, one Magical Night!
~Greg Milo 5 to 7pm
www.gregmilomusic.com
~Urban Gypsies Of Florida 7 to 10pm
www.urbangypsiesofflorida.com
It's also Gulfport's First Friday Art Walk
Hosted by:
www.vintagewinelounge.com
https://www.facebook.com/The-Perfect-Ten-Nail-Salon-Gulfport-Florida-503378153098730/
The Culby Group
www.myartofmassage.comGreg Milo 5-7pm
Urban Gypsies of Florida 7-10PM
First Friday Art Walk in Gulfport Fl,
On stage in front of Vintage Wine Bar and Small Bites
Urban Gypsies Of Florida exhilarating improvisational style produces captivating performance, Their distinctive styling's continually surprise and delight the listener with innovative combinations of Original Song Writing including Tribal, Disco, Gypsy, Bluegrass, 70's Rock, Folk, and Funk genres.
Urban Gypsies Of Florida's smoothly blended harmonies, exciting primal rhythms, and organic bling like textures personify joyous crazy fun times.
Think of Rusted Root, Bill Monroe, Bob Marley, Pink Floyd, CSNY, Grateful Dead and you can get a sense of what to expect, but always expect the unexpected.